Penta comes from a long history of farming, and we understand that transporting your crop is something that needs to be done quickly and reliably. That's why we are pleased to introduce our latest line of products to improve the efficiency of your operation – Penta hydraulic Dump Boxes. Penta dump boxes were designed with the farmer in mind. Start with the visibility inside the box from the cab of your tractor, move to the unique loading and unloading features, and finish with an overbuilt frame and robust axles for increased strengthen flotation. Combining simplicity with strength. Penta dump boxes are the premium choice for the modern farmer. With on the farm testing and farmer input. Penta is providing a superior option for quickly transporting and delivering your crops in perfect condition.
DB50 TRIDEM AXLE SPECIFICATIONS
FEATURES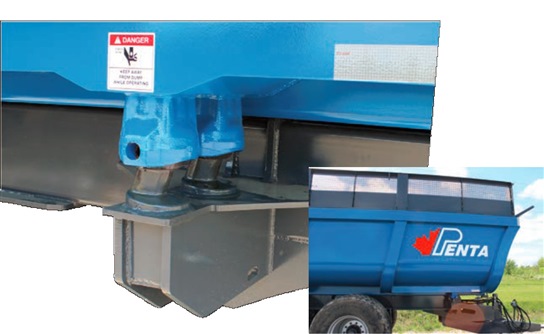 UNIQUE BOX DESIGN
The Penta Dump Boxes sit on identical mounting knuckles – two on each corner on the DB70, DB50 and DB40; one on each corner for the DB30. Pins are inserted in the rear knuckles to keep the box fixed while lifting. By providing eight identical knuckles, the pins can be switched to reverse lifting, again increasing your ability to fill the box while travelling behind a harvester.
Removable extensions come standard, and are simple to remove if less height is required. As well, a graphite-coated inside and a hydraulic tailgate increase the efficiency of unloading, saving time and hassle.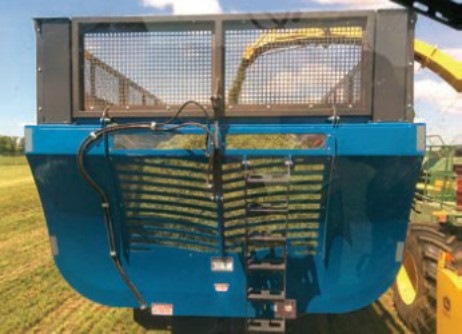 USER-FRIENDLY FRONT END
The front of the box is designed to be operator friendly Exceptional visibility is achieved with a viewing window covered with plexiglass, making it effortless for the operator to view inside while loading. A foldaway front ladder is also featured for when a closer look is required. A hydraulic front gate tilts forward for the initial pass through the field, for ease of loading while following a forage harvester.
All models are built with a wide tub, allowing for easy filling with any harvester. The tub also features rounded corners and tapers out towards the bottom and rear, allowing for product to easily slide out when it's time to unload.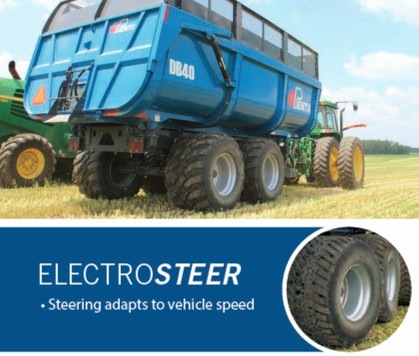 TRANSPORT MADE SIMPLE
Superior flotation and ease of transport are strong features of the dump trailer product line. All models feature 800/45R26.5 tires – providing flotation in challenging field conditions, and minimizing the horsepower required to pull each unit.
The DB50, DB60, and DB70 models also feature front and rear steering axles. The steering system is a follow steering system, and is operated through hydraulic lock and unlock. For road transport, the steering system can be hydraulically locked out to improve stability.
Hydraulic brakes come standard on all models, with air brakes available as an option.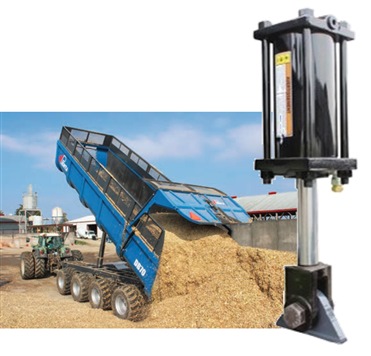 STRENGTH AND STABILITY
Reliable and safe equipment is increasingly important during harvest seasons. The entire Penta dump trailer lineup features a robust frame and heavy-duty suspension, as well as a unique cylinder system designed to keep the frame and trailer stable during unload. Two stabilization cylinders are found mounted on each of the rear axles – this feature is found on the 3 rear axles of the DB70, the 2 rear axles of the DB50 and DB60, and the rear axle of the tandem axle DB40 and DB30.
As soon as the operator begins to lift the main hoist cylinder, oil is first diverted to these stabilization cylinders. The cylinders extend fully and prevent the trailer from leaning one way or the other. The cylinders keep hydraulic pressure and remain stable until the trailer is completely lowered.
Also featured are hose burst valves – in the case of a hydraulic line blowing on the system, the valves will instantly shut off and prevent the cylinders from losing pressure.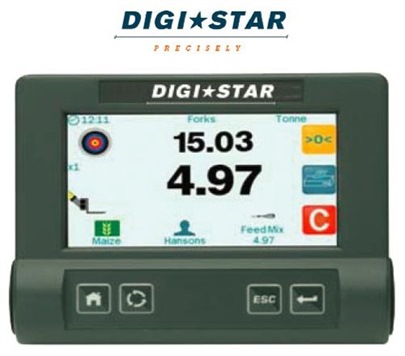 DIGI-STAR WEIGHLOG
Penta Dump Boxes now feature an optional Digi-Star WeighLog system, originally developed for the loader market. This system has been modified and calibrated to work with all Penta dump trailers, and can be retrofitted to existing units.
The WeighLog provides a user-friendly, onboard weighing method that can be used in all dump trailer applications. The system records and stores each load as it is weighed, meaning that the operator knows the weight of every load coming out of the field. Additionally, you can separate loads by farm and field, and transfer the data to a computer or tablet.
By removing guess work and reducing travel time to offsite scales, the WeighLog system provides an efficient and precise method of documenting yields and feed volumes.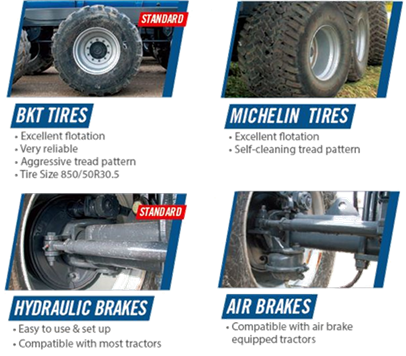 FLEXIBLE OPTIONS
There are five sizes of trailers currently available, each suited to your unique needs. They range in size from 30 to 70 cubic meters. The DB70 and DB60 are larger machines best suited for large or custom operations. The DB50 is our standard machine, suitable for all types and sizes of operations. The DB40 and DB30 are versatile trailers that serve many purposes.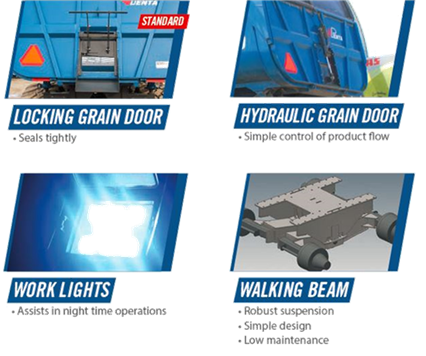 FLEXIBLE OPTIONS
FLEXIBLE OPTIONS
Features
Axles
Tri-Axle – Standard
Steering Axles
2 steering, 1 fixed
Extension Height
32″
Front Tilt Extension
Hydraulic
Tailgate
Hydraulic
Grain Door
Manual/Optional Hydraulic
Tires
Standard – BKT FL630 800/45R26.5

Optional – Michelin 800/45R26.5
Specifications
Total Length
411″
Total Height (with Tires & 32″ Extentions)
153″
Outside Width (with Tires)
131″
Interior Dimensions (L x W x H)
25.9′ x 9.0′ x 4.6′
Unit Weight
27,700 lbs
Tri-Axle Weight Capacity
60,000 lbs / 27,200 kg
Volume (with Extensions)
1850 cu ft / 52 m3
Silage Capacity
23 tons
Hoist Oil Volume
12.68 US Gal / 48 Litres
Minimum Tractor H.P.
190