Penta Stationary Vertical Mixers are compact and convenient machines with a high capacity and low power consumption. Stationary Mixers offer the possibility to use more economical feed boxes with less horsepower to distribute the feed. The mixers run at a reduced constant RPM as opposed to mobile mixers, and full clean out can be arranged through a variable drive and gearbox. All mixers are built on a subframe and supports can be ordered to put the machine at the desired height. The machine is operated by a frequency changer which makes sure that the machine starts slowly and without any increase in power. The frequency changer also enables acceleration as required. Contact Penta for door location and HP requirements.
ELECTRONIC CONTROLS
The mixers are able to run at a reduced constant RPM using electronic controls.
Variable Speed Drive
Speed up
Reverse
Slow down
Remote Door Controls
DRIVELINE
To transfer electronic power to the mixer there are a variety of ways to use a single motor or motors together.
Drives offered:
Belt Drives
Direct Drives
PTO Drive
2 Speed Gear Box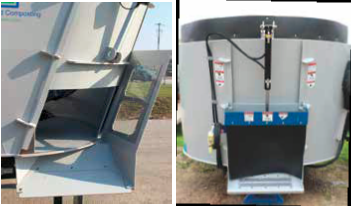 DOORS
There are two door options available for the stationary mixer. Each stationary mixer can be customized and multiple door options are available on a single unit.
Placement options: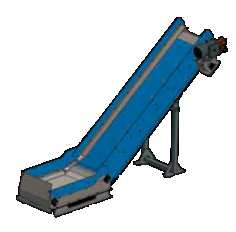 CONVEYOR
Conveyors for the stationary mixer come in 3 size options and are built for long life and dependability using the heaviest cast chain in the industry.
Available sizes: Bases 4′-4.5′-5′-6′, Wing 9′-10′
Option to upgrade to stainless rails available
Powered by Electronic 3 HP Motor
| Specifications | Imperial | Metric |
| --- | --- | --- |
| Capacity 9″ Rubber | 440 cu ft | 12 m3 |
| Total Width | 78 in | 198 cm |
| Total Length | 270 in | 685 cm |
| Total Height | 92 in | 234 cm |
| Loading Height | 85 in | 215 cm |
| Chute Height | 17.25 in | 44 cm |
Model Descriptions
Auger Thickness (Optional 3/4″)
1/2″
Floor Thickness
3/4″
2-Speed Gearbox
Standard
Max lbs of Feed in Mixer
7,920 lbs
Magnets
Optional
Hydraulic Power Pack
Yes
Drive Systems and Electrical Requirements
Drive Style
Electrical Service Required
Belts, 2x15hp
240V single phase, 150A
Direct, 30hp
240V single phase, 150A
480V three phase, 40A
600V three phase, 30A