VALMAR 56 SERIES IMPLEMENT-MOUNT GRANULAR APPLICATORS
Next Generation Applicator
Salford's Valmar 56 Series machines build on the successful 55 series granular applicators.  56 Series units feature polyurethane tanks for simple clean out and greater longevity with a wider range of products. 56 series applicators can also be equipped with stainless steel metering for fertilizer application.
A Better Applicator through Better Design
Whether you're seeding or applying herbicides, a Salford Valmar 56 Series implement-mount applicator is designed to deliver unparalleled accuracy under a wide variety of ground conditions. Its rugged construction is sturdy enough to withstand the rigors of commercial use. With this level of built-in durability, the 56 Series is the right choice for your farm operation. Moreover, it incorporates a number of innovative features designed to make granular application easier, safer, and more precise than ever.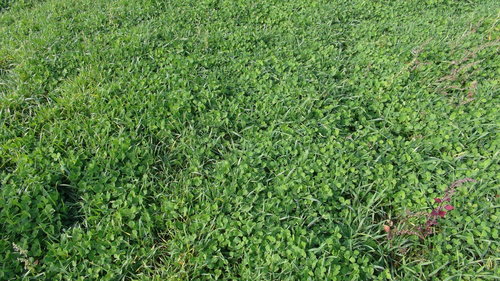 Cover Crop
Salford's Valmar 56 series line of seeders excel at cover crop application.  The 56 series quickly and accurately meter a variety of seed and granular product sizes at a range of rates suited for cover crop seeding.  The 56 Series seeders are best known for their value, versatility and adaptability.  56 series seeders are routinely setup for seeding with tillage implements, heavy harrows, high clearance sprayers, and a variety of other implements allowing producers to accomplish more work with each pass.
Accurate Metering System
The Valmar 56 Series applicators achieve their accuracy thanks to a ground-driven metering system that ensures an accurate application rate regardless of ground speed. 56 Series applicators use a 60-speed gearbox that allows the application rate to be increased or decreased in increments of five percent. Drive ratio changes can be made at the gearbox, eliminating the need to move chains and realign sprockets. For cropping conditions that require a rate change on the go, an optional Alternate Rate Kit can be added to allow an instantaneous rate change. Or, simply by installing a hydraulic drive system, you can eliminate the ground drive and be ready for use with most GPS or variable rate systems.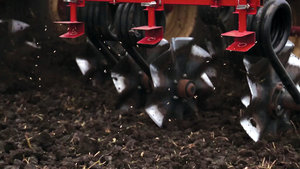 Broadcast Application
56 series applicators are most often configured for broadcast application on implements from 16 feet to 80 feet wide.  A simple mounting system from Salford allows the broadcast diffusers to be positioned for total ground coverage.  Diffusers can be mounted in front of or behind the implement depending on what product you're applying and the implement you're mounting to.
Features for Smoother Operation
The semi translucent hopper on the 56 Series applicators enables operators to visually check the product level in the hopper. The 56 Series also features a manifold pressure gauge to ensure an adequate air flow is maintained for even product distribution. Finally, a warning light and buzzer are included on the in-cab control unit to alert the operator of any problem with the air supply.
Simple Calibration
Calibrating an applicator is necessary to ensure proper flow rates, especially when determining the settings for new products or various sizes of seed and seed mixtures. The 56 Series applicators make this process easier by allowing the venturi and manifold system to be dropped so that a funnel tray can be inserted for easy collection of product. Operators can use the crank handle to simulate ground travel and establish precise calibration of any product. This also makes emptying the hopper an easy and safe procedure.
Easy Maintenance and Cleaning
The 56 Series applicators feature a number of innovations that make maintenance and cleaning easier. Perhaps most important is the location of the hopper shaft. By placing the shaft outside the hopper, product stays clear of the bearings and allows them to be serviced even with a full hopper. The outside shaft provides the added benefit of enabling the electric clutch installation to allow half-width application on either side of the implement (not available on the 1656). A convenient hopper-bottom slide gate enables the rollers to be removed for servicing or cleaning without draining product from the hopper.
MOUNTING OPTIONS FOR YOUR 56 SERIES
Valmar 3-Point Hitch Mounting Option

Choose Your Implement – The 3-point hitch mount uses an integrated drawbar rated for 350 hp. A heavier duty, 600 hp rated version is also available on request. The ease of hitching and unhitching different implements makes it easy to use the 56 Series applicators with multiple implements on the same farm. All hydraulic and electrical hook-ups are transferred to the rear of the unit as well. Switch between applying starter fertilizer with your planter to seeding cover crops with your tillage tool in no time.
Ease of Operation -The applicator itself has a platform for easy access to the hopper and a ladder that folds away while in operation.  The 3 point applicator box also has integrated stands for storage or easy hook up and dismount from the tractor linkage
Valmar Tow-Behind Mounting Option

A Safer Option – The new platforms are designed to be more operator friendly and safer.  With the new options available, operators are able to easily fill and calibrate the 56 series without having to climb over the implement's frame to get to your Valmar.
Integration Simplicity – The 3-point hitch mount and the Valmar tow behind eliminate the need for implement specific mounting brackets and hardware making the 56 Series instantly compatible with virtually any implement. The 'turn-key' solution greatly simplifies setup requirements.
SPECIFICATIONS
Hopper:
Application Width

4056: 16 outlets – 16 to 40 ft.

6056: Option 01: 24 outlets/24–60 ft. Option 02: 32 outlets/32–80 ft.

Capacity

4056: 40 cu. ft. (1800 lb.)*

6056: 60 cu. ft. (2250 lb.)*

Polyurethane plastic tank

Weather tight lid

Hopper bottom shut-off slide gates
*Based on 45 lb./cu. ft.
Product Delivery:
·        1.25 in. ID flexible PVC hose (1 in. ID on 1655)
·        Broadcast deflectors mount individually to the implement frame
Metering Drive Options:
MECHANICAL METERING DRIVE – GEARBOX ONLY (NO DRIVE WHEEL)

Includes: 60 speed gear box (5% speed intervals), hand crank for calibration, manifold gauge,

in-cab warning light/buzzer for manifold pressure and in-cab manual switches for section control

MECHANICAL METERING DRIVE – WITH DRIVE WHEEL

Includes: 60 speed gear box (5% speed intervals), hand crank for calibration, mechanical drive

wheel with 6-12 tractor grip tire, manifold gauge, in-cab warning light/buzzer for manifold pressure

in-cab manual switches for section control

HYDRAULIC METERING – MOTOR ONLY

Includes: 11.3 CID hydraulic motor only (requires 11.5 gpm) – Hydraulic lines not included

HYDRAULIC METERING – RATE CONTROL READY

Includes: 11.3 CID hydraulic motor only (requires 11.5 gpm – hydraulic lines not included),

flow control valve, meter encoder, fan speed and bin-level sensors – Kit does not include

ECU, harnesses or cab display

HYDRAULIC METERING WITH SALFORD ISOBUS* GRANULAR RATE CONTROLLER

Includes: 11.3 CID hydraulic motor only (requires 11.5 gpm – hydraulic lines not included),

flow control valve, meter encoder, fan speed and bin-level sensors, ECU, implement harness and harness to tractor (extension harness to tractor may be required) –

For use with 3rd party ISObus 11783 cab consoles (i.e. JD 2630, CaseIH Pro700, AGCO Command Center, Trimble TMX2050, etc.) – Cab display not included